Taking employees by the hand in complex transformation processes is not always easy. Unless, of course, you simply depict it all in one big picture, making the obscure visible at a glance. This is what Salzgitter Digital Solutions GmbH has done, with our help of course.
Customer
Die Salzgitter Digital Solutions GmbH ist eines der deutschlandweit führenden IT-Dienstleistungsunternehmen in den Bereichen Stahlerzeugung, Stahlverarbeitung, Handel und Technologie. Das 100prozentige Tochterunternehmen der Salzgitter AG wurde 1989 gegründet und hat seinen Firmensitz in der Hauptverwaltung des Mutterkonzerns in Salzgitter. Hier, in der Nähe von Braunschweig, bilden heute rund 450 Mitarbeiter:innen die gesamte Wertschöpfungskette ab: Von der Organisationsberatung und Entwicklung von Lösungen für die Informationsverarbeitung bis zur Erbringung von Service- und Rechenzentrumsleistungen.
Task
In the course of comprehensive restructuring measures, the workforce of Salzgitter Digital Solutions GmbH doubled from approx. 210 employees to around 450 in 2022. The reasons for this lie on the one hand in a far-reaching decarbonisation strategy, which the Salzgitter parent company has been pursuing for some time and which has led to a high demand for IT services. In addition, the need for support on the part of customers in the general digitalisation of their processes and the expansion of IT security is continuously increasing.
The goal of all restructuring measures was and is to increase the effectiveness and efficiency of the company. Better internal cooperation as well as greater transparency of the services offered to the customers should also contribute to this. To achieve this goal, Salzgitter Digital Solutions GmbH decided to create a big picture that illustrates the company's transformation process and the environment in which it is taking place.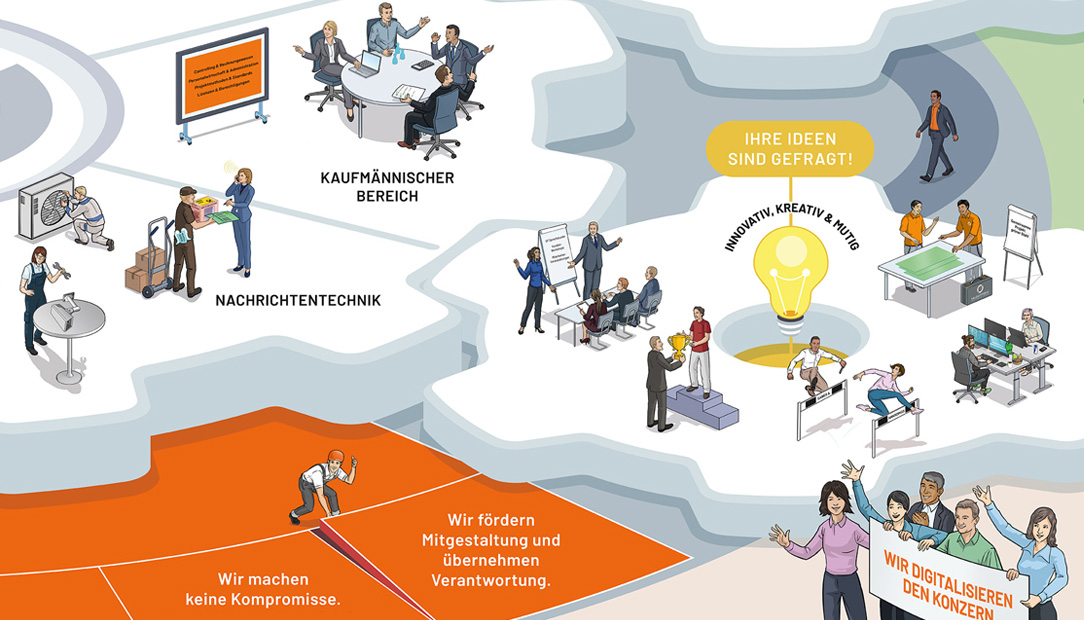 Implementation
The main task of the desired Big Picture was not only to illustrate the change in the company to people from two companies (Salzgitter Digital Solutions GmbH and the parent company, Salzgitter AG), but also to inspire them to do the same. This was achieved by illustrating the transformation process through a path from the suboptimal initial situation to the new, effective "gearbox" (represented by several cogwheels). The Big Picture makes it clear in a simple and memorable way how this new "gearbox" with all its components (staff development, corporate strategy, customer orientation as well as the company's value system) works, how it has developed and where the journey will lead in the future. The Big Picture was presented for the first time at the "Welcome Days", to which all employees of the company were invited. Here, the Big Picture was received with great enthusiasm and quickly attracted the attention and interest of the staff.
"With the Big Picture, we succeeded in communicating our path and our goals, as well as the information necessary to achieve them, in a way that is catchy, inviting and quickly absorbable."
QUICK-FACTS

KUNDE: Salzgitter Digital Solutions GmbH
SCOPE OF SERVICES: Big Picture Development
PROJECT DURATION: 1.5 months
BUDGET: low, five-figure range
Imagery template as basis for the Big Picture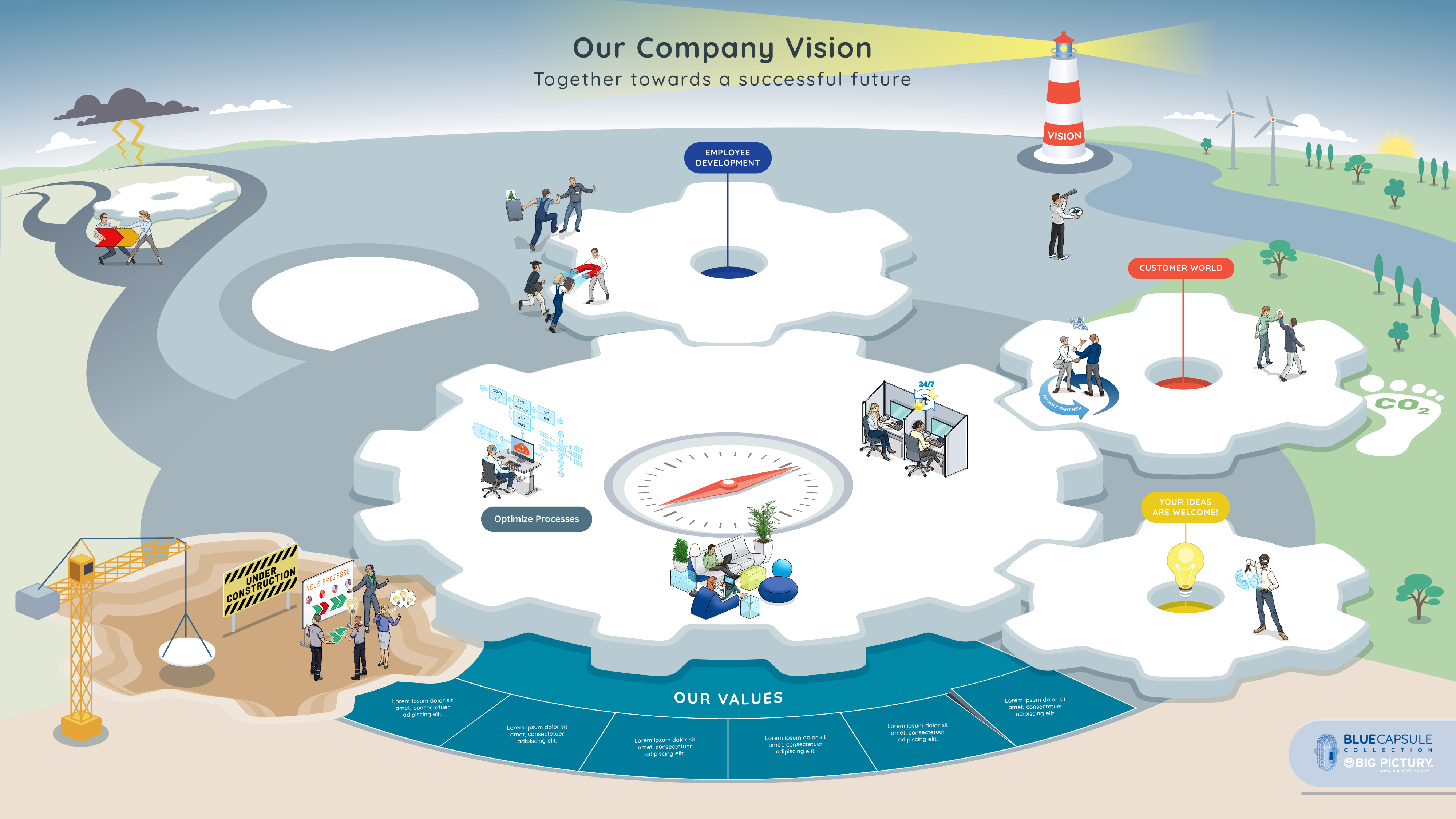 The finished big picture