"WEWO Screws and Fixing Elements GmbH has been an owner-managed medium-sized company for over 45 years, with over 110 members of staff. Our unique innovative strength and accompanying staying power has already enabled us to confidently overcome many crises, so that we are now well on the way to becoming the leading service provider in procurement logistics. In 2018, our corporate image was fundamentally revised, meaning we are now in the home stretch of this change process and are thus emerging significantly stronger.
We decided to use a BIG PICTURE in order to communicate the new processes within the company in a memorable and easily comprehensible way. In addition to the presentation at our company event, we have positioned the picture in clear view in our branch as a permanent point of reference. Our staff can grasp the meaning of the picture at a glance and, when looking at it in more detail, can also recognise the various facets of the company. By using the BIG PICTURE, we were able to communicate our daily mindset to our staff in an extremely appealing and accessible way. In this way, our team was also able to identify with the result on an emotional level. When working with BIG PICTURY, we not only benefited from their unique experience, but the development process was also straightforward and goal-oriented, despite the tight schedule.
In the first step of the collaboration, our needs and goals were defined and, based on this, a design was found that suited us. After that, we went into more attention to detail to convey our content with significant scenes, with the first draft already being a great success. The use of the compass as the central anchor of the BIG PICTURE is of particular significance here, as it represents enormous symbolic power and thus really gets right to the heart of our focus. Even though there are currently no other projects in the offing, we are thoroughly convinced by the result and are happy to wholeheartedly recommend BIG PICTURY to others".
Philipp Weber, Managing Director
If you'd like us to create a Big Picture for you in a similar style, have a look at our templates HERE
The neutral template
The final Big Picture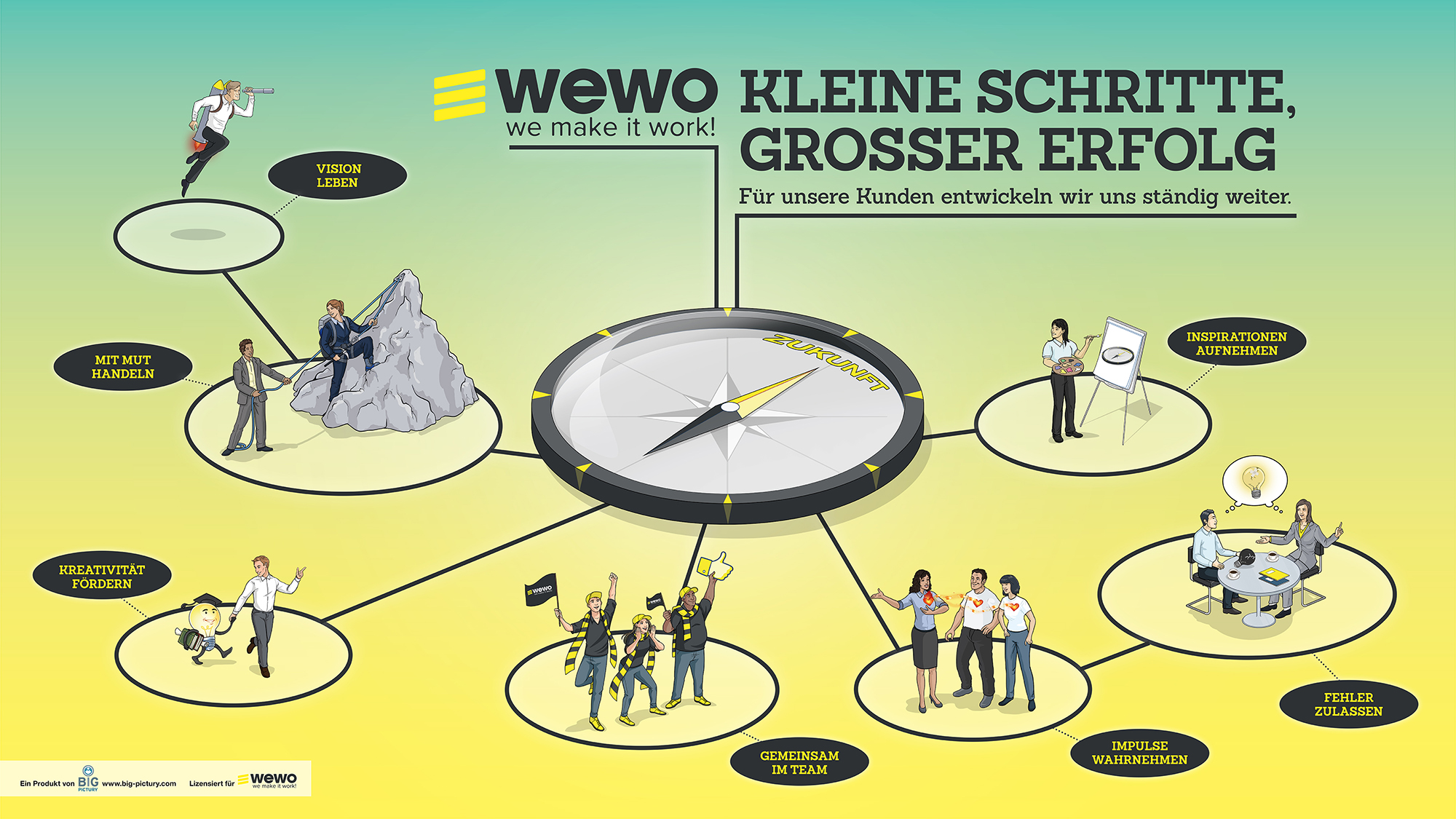 The Big Picture as large-format print in use