Playing makes learning easier!
Seminars, training sessions and workshops are social learning and development processes in which the participants are supposed to develop themselves or their skills. Does this go together with games? You bet it does! This is because playing can be very motivating and can significantly boost learning success. "Playful learning" is the magic word. Find out more about it in this article!
Playing means discovering
Did you know that children spend up to 15,000 hours playing in the first six years of life? This is not only because games are fun, but also because games fulfil an important evolutionary task. By trying things out and discovering things we unknowingly, and quite incidentally, acquire skills in our earliest years that are essential for survival in our later lives. Climbing trees, for example, trains our strength and dexterity. Board games train our logical thinking as well as our social skills by teaching us to talk to each other or to deal with losing.
Behind all this is the innate play instinct that we all have as humans. Cambridge University even has its own chair that researches the role of play and the play instinct in learning. However, the problem is that once we reach school age, this play instinct is usually suppressed. Instead, we are conditioned to see learning and education as something very serious and important. Failure is seen as a weakness and mistakes are not allowed and all that counts is performance and marks. This continues in the world of work. This is exactly where Playful Learning comes in: It allows us to revisit the play instinct as a key motivator for learning and as a method for intuitive and deeper understanding.
What is Playful Learning?
Playful Learning is about the playful delivery and absorption of learning content. Playful Learning stimulates the intrinsic motivation and flow state of the learner(s) by making knowledge a playful and experimental experience. Playful learning is all about trying out new things, exploring boundaries, and thus breaking the routine that often inhibits communicative or creative processes in many companies. Major international companies such as eBay or Microsoft use Playful Learning methods, for example, to formulate their brand identity, to develop innovative ideas and strategies or to effectively design change processes.
Playful Learning Methods
In the meantime, various playful learning methods have become established – from puzzles and quizzes to gamified learning materials, business simulation and escape games. The LEGO®-SERIOUS-PLAY® method (LSP method for short) has also enjoyed great popularity for years. This method is based on the assumption that every thought, every experience and every project can be visualised in the form of three-dimensional models made of Lego bricks. In its practical application, the whole thing works in such a way that each workshop or seminar participant is given a Lego set consisting of various elements, such as small figures, wheels, turbines, trees, plants or even a ladder. Each Lego brick is assigned a metaphorical meaning: For example, the turbines stand for "agility", the tree for "sustainability" and the ladder symbolically for "achieving goals". Then a topic is defined which the participants have to build a model for (for example: "Build a model that reflects your job satisfaction"). Each participant builds his or her personal model according to this guideline, which is then discussed in the group.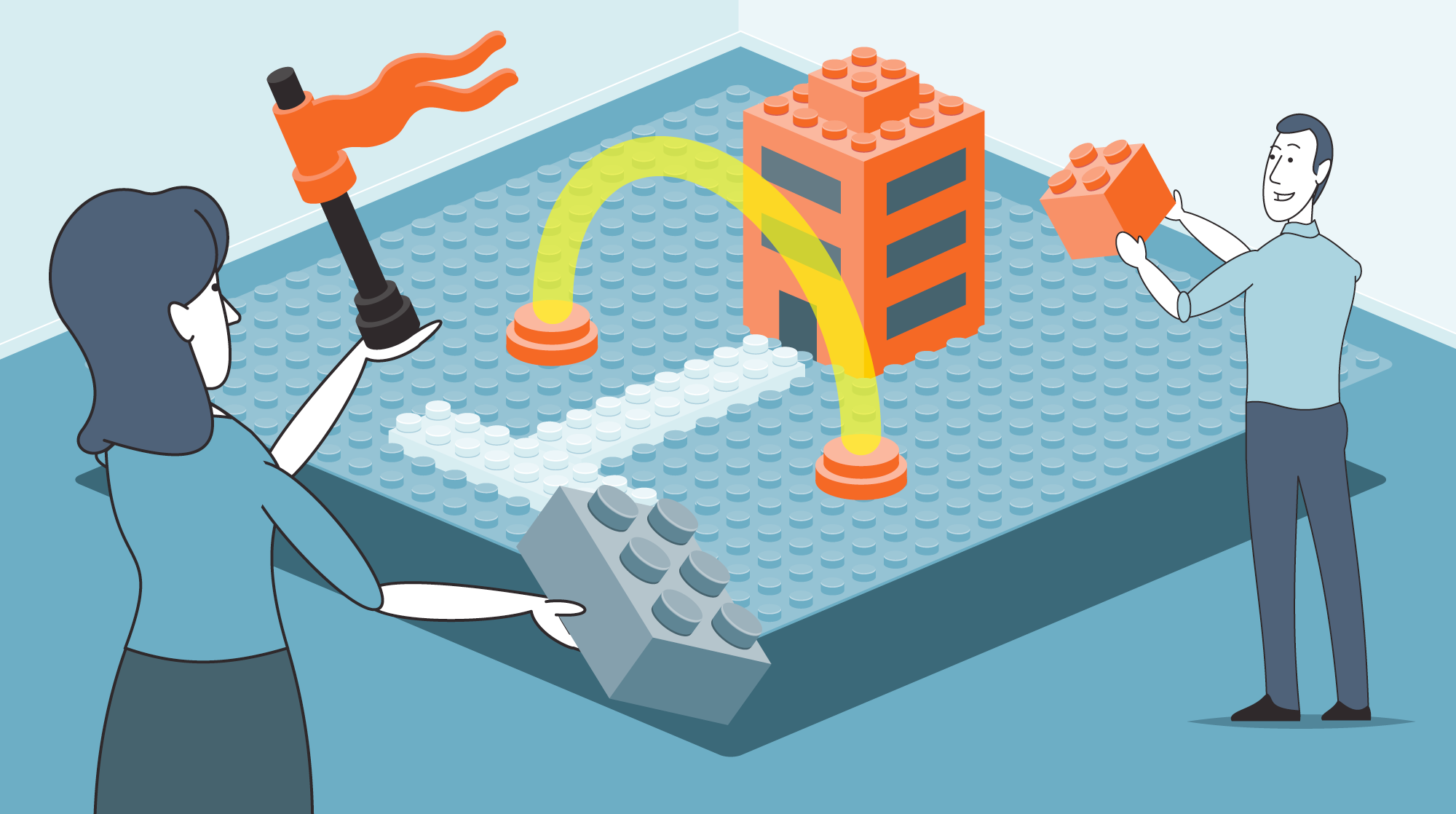 Advantages of Playful Learning
Numerous studies have proven that people deal with a topic more actively and independently by transferring elements typical of games to contexts other than games. Furthermore, the use of Playful Learning methods in workshops or seminars promotes common understanding through visualisation and improved communication. Ideas, relationships and contexts become concrete and visible and complex issues become easier to understand. What is more, the playful environment is fun and makes it easier to address critical issues.
Playful Learning with Big Pictures
The digital Big Pictures Workshop Sets offer an exciting and inspiring way to use the advantages of Playful Learning online. The digital packages consist of various visual elements which companies can use independently to carry out workshops on different topics, such as "hybrid working". The outstanding feature of the sets is that they consist of digital background elements, objects and icons, as well as scenes in which people play the main role. All these elements can be put together on the screen according to individual preference – similar to Lego bricks – in order to jointly depict, process, discuss and further develop work situations or other business contexts. For example, online whiteboards on the programme "Miro" can be used for this purpose, where the elements can be freely arranged, duplicated, superimposed and labelled.
Conclusion
Logic, cognition, dexterity and creativity are subconsciously promoted through the innate play instinct. The use of Playful Learning elements in workshops and seminars can therefore make a significant contribution to the communication of information and thus to the overall success of a company.