Whether in the city hall or in 2,000 other offices: As part of a comprehensive campaign under the motto "München unser Kindl" (Munich, our child), the Bavarian capital of Munich presents itself as an attractive employer characterised by reliability, job security and flexibility. In order to make its advantages as an employer more tangible and interesting to potential employees, the City of Munich decided to use a Big Picture.
Client
The City of Munich is Germany's largest municipal employer: 15 departments, 6 municipal enterprises, over 2,000 offices and more than 43,000 employees work every day to keep the Bavarian capital running. Working for the City of Munich is attractive: individual part-time models, sabbatical options and shared management positions make it easy to balance work and private life. And last but not least, the city of Munich responded very quickly and flexibly to the crisis situation during the pandemic with new tools and offers for the home office, thus demonstrating responsible action.
Task
Since 2021, the City of Munich, with the website "München unser Kindl", a promotional film and a poster campaign, has been presenting itself as an attractive employer that has a lot to offer its employees. In order to make its advantages as an employer even more tangible and interesting for potential employees, the City of Munich turned to Big Pictury: The Personnel Marketing Competence Centre (Human Resources Department), wanted a Big Picture that would illustrate the benefits of the City of Munich as an employer in an innovative way. The new employer brand "München unser Kindl" (Munich our child) was to be integrated and the City of Munich made recognisable as ONE employer. In addition, the "diversity" of daily work and opportunities was to be recognisable as an important value in all scenes.
Implementation
The cooperation between the City of Munich and Big Pictury was very agreeable and constructive. First, a comprehensive briefing took place in which the City of Munich explained its requirements and framework conditions. This was followed by joint creative brainstorming sessions in which the design of the scenes gradually took shape. At the end of the process, a unique Big Picture and a clickable version of it (Click Picture) were created, which now sums up the advantages of the City of Munich as an attractive employer. The Big Picture and the Click Picture will be used as part of a comprehensive communication plan, both internally (e.g. social intranet & internal events) and externally (social media & trade fairs).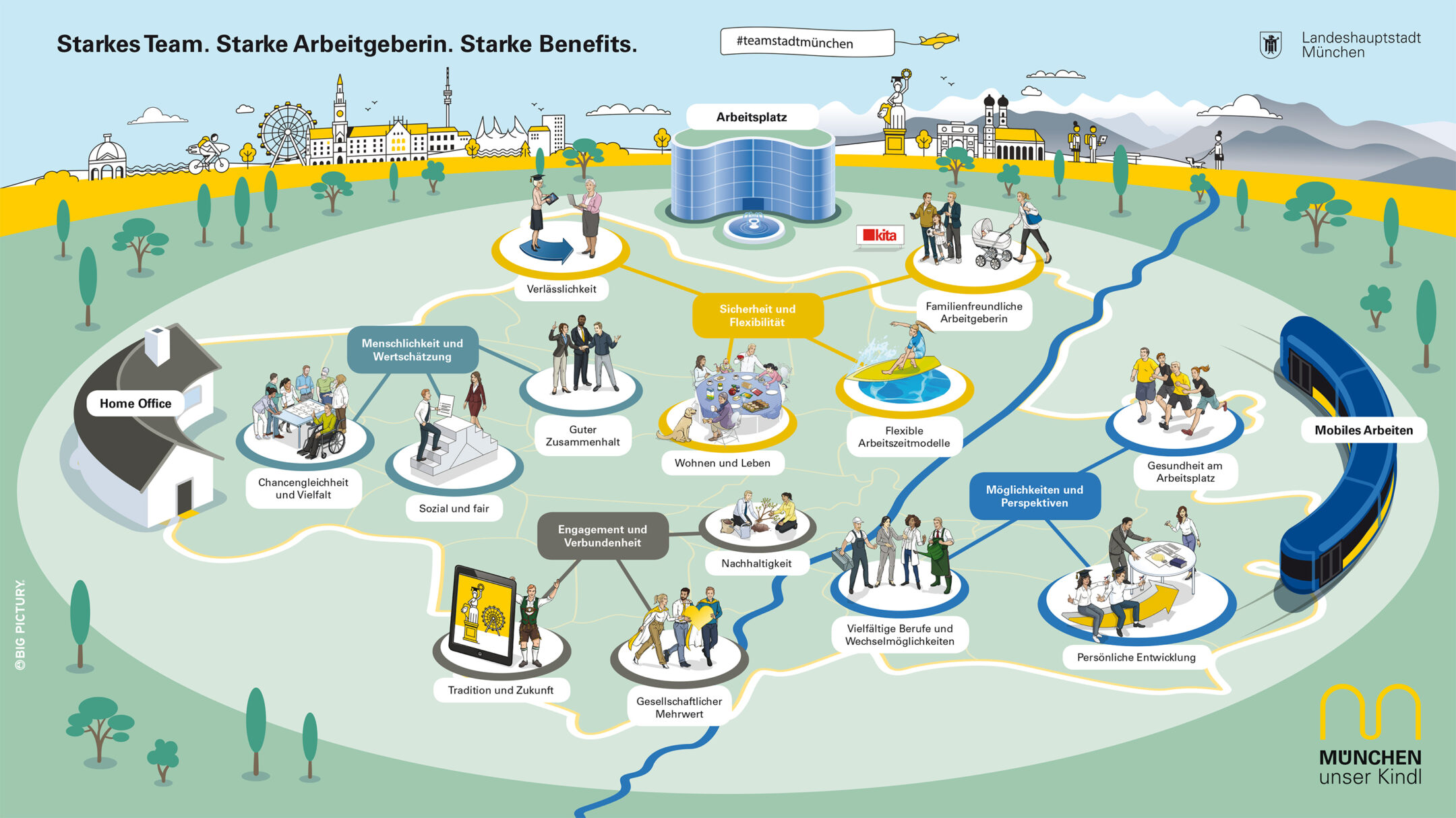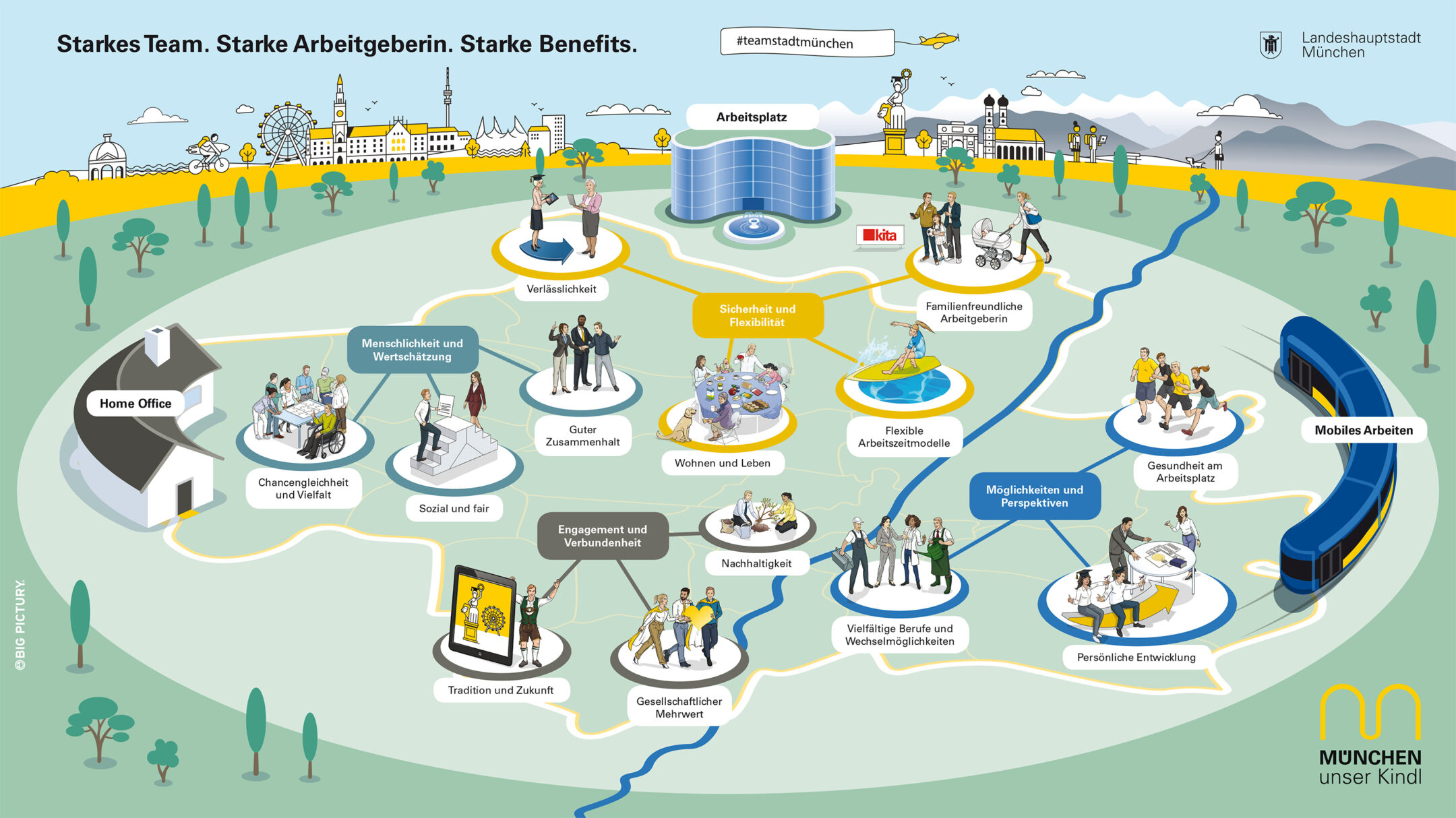 The actual content is what counts
Considering all the attention that can be generated by visualising corporate benefits in a big picture, it is important to present value adding benefits when communicating with potential employees. A great coffee machine or a fruit basket are no longer benefits that really make a difference when choosing an employer. Decisive factors are values that are lived on the daily and benefits that significantly improve the (working) lives of employees. In the Big Picture, the benefits were therefore divided into several categories.
4 possible fields of action for corporate benefits with real value:
Commitment and solidarity
Opportunities and perspectives
Each area is assigned different content, illustrated in individual scenes. See example "Socially minded & Fair". The picture emphasises equality and the accompanying information box highlights that equal pay is a matter that the City of Munich takes seriously, as well as equal opportunities when staffing management position.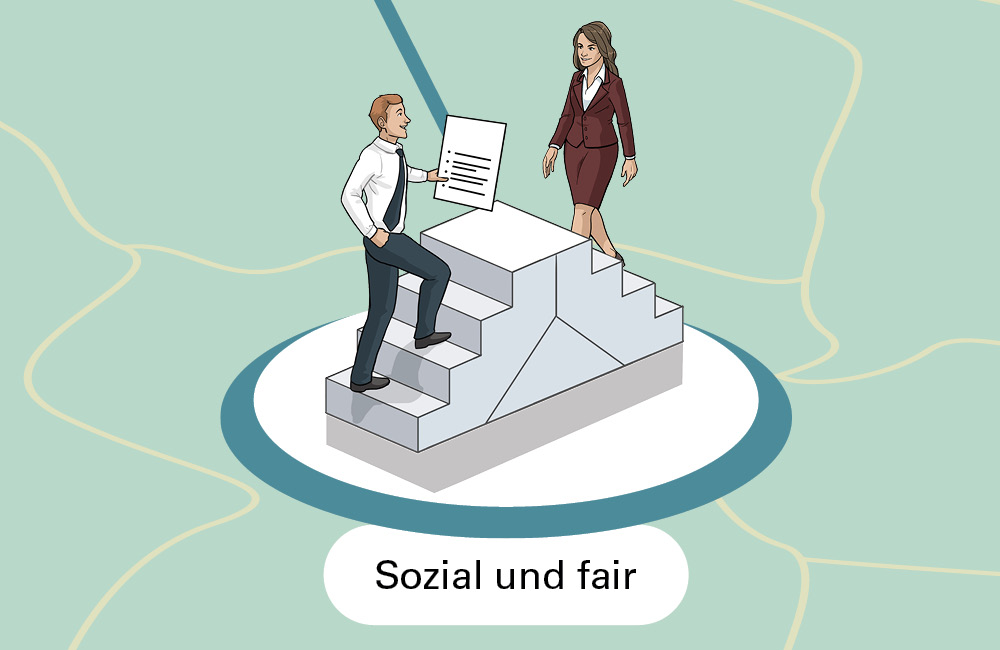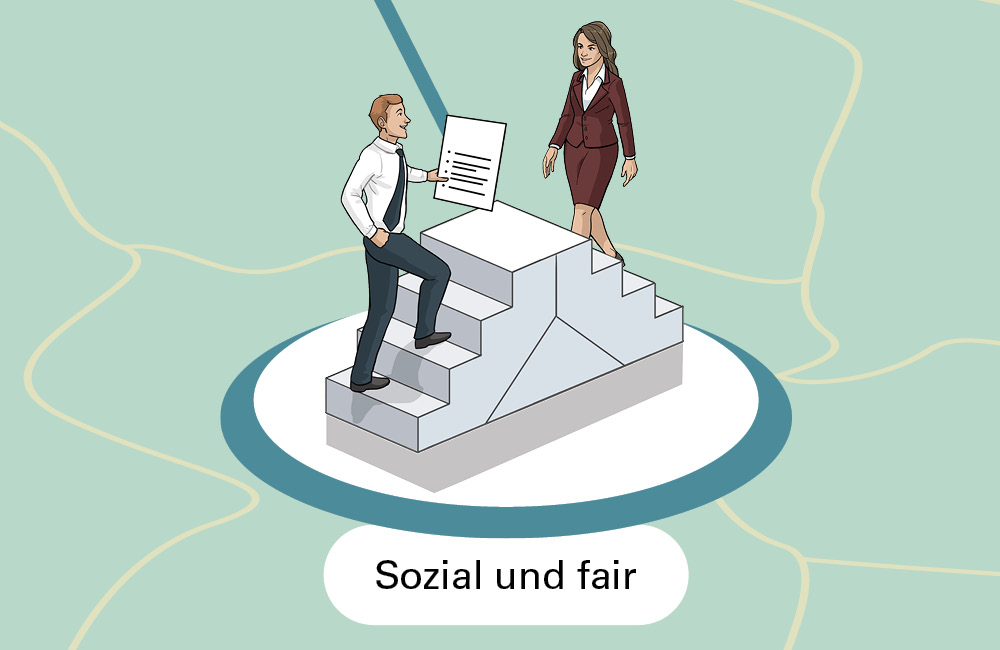 QUICK-FACTS

CLIENT: City of Munich, Personnel and Organisation Department, Competence Centre Personnel Marketing
SCOPE OF SERVICES: Development of a Big Picture including an interactive Click-Picture
PROJECT DURATION: 5 months
BUDGET: four figures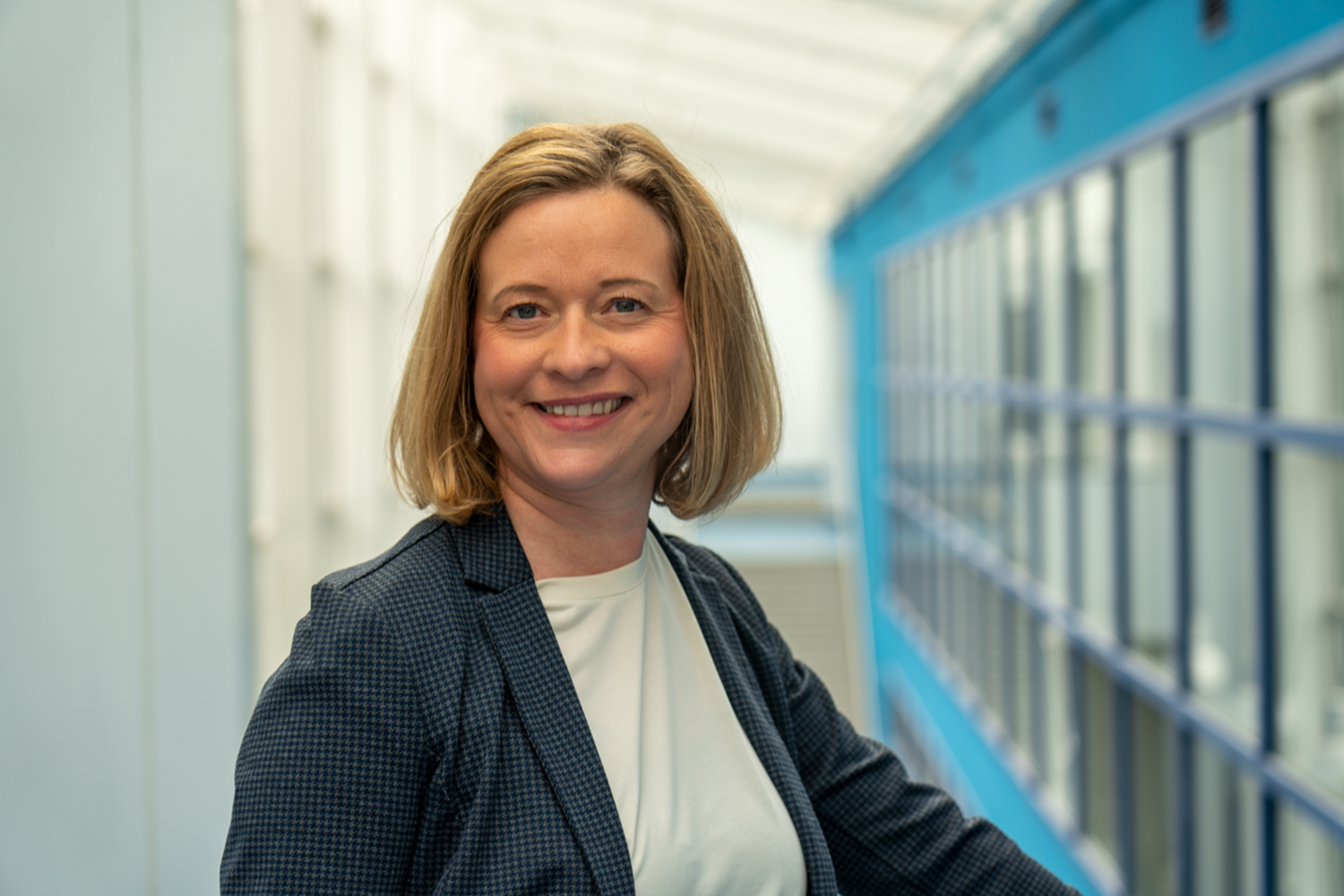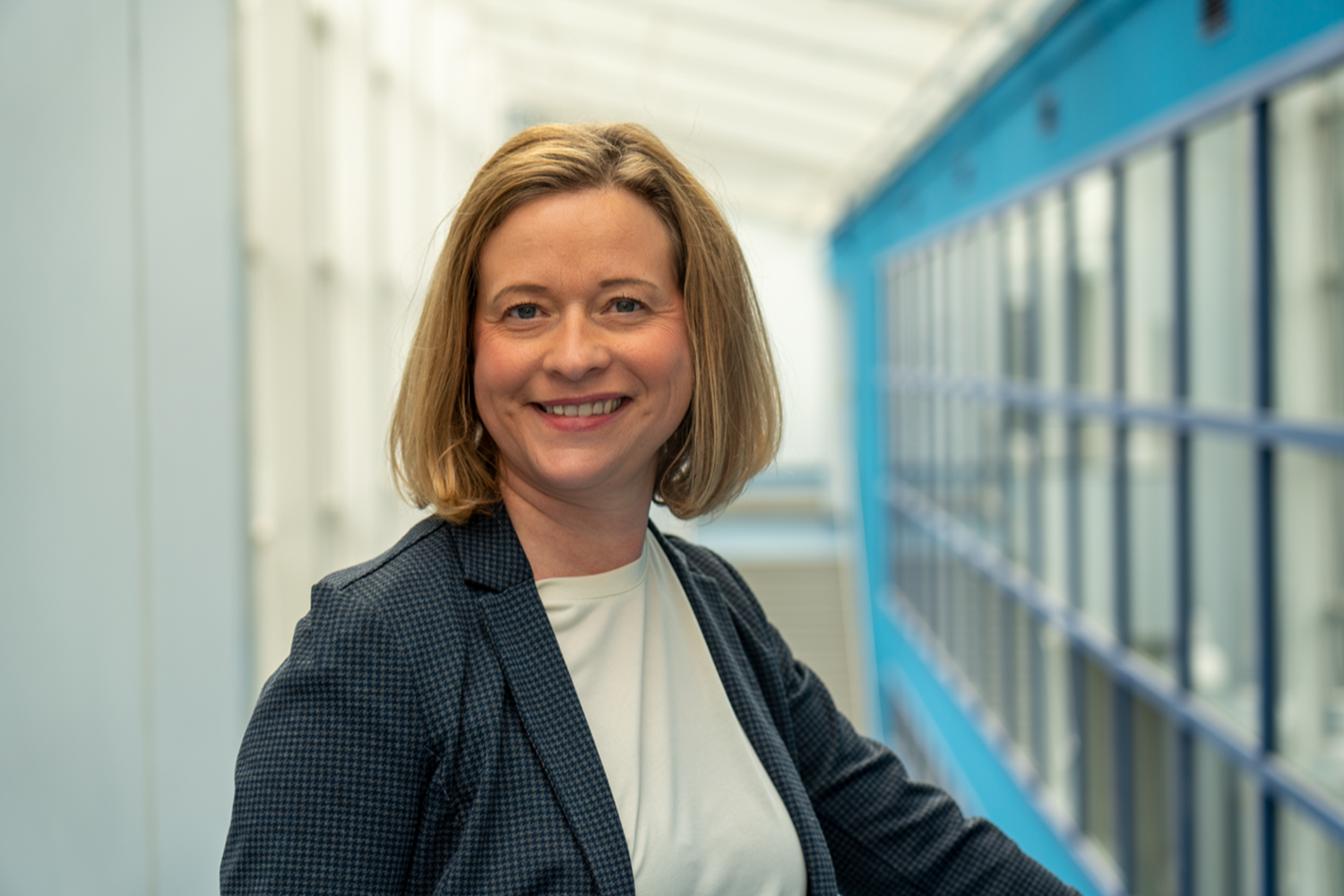 "Working with Big Pictury was very enjoyable and inspiring. We received valuable input on the design and our initial ideas were creatively thought through. During the briefings, Big Pictury had a very good understanding of our concern."
The finished Big Picture as a digital version with information boxes