EEW Energy from Waste GmbH (EEW) is one of the leading companies in Europe in the field of thermal waste and sewage sludge recycling. And the company is aiming even higher: As part of its sustainability goals, EEW wants to be climate-neutral by 2030 and even climate-positive by 2040. To achieve this, the corporate strategy has been comprehensively realigned. A complex process that EEW now explains to its employees in a simple way with a big picture.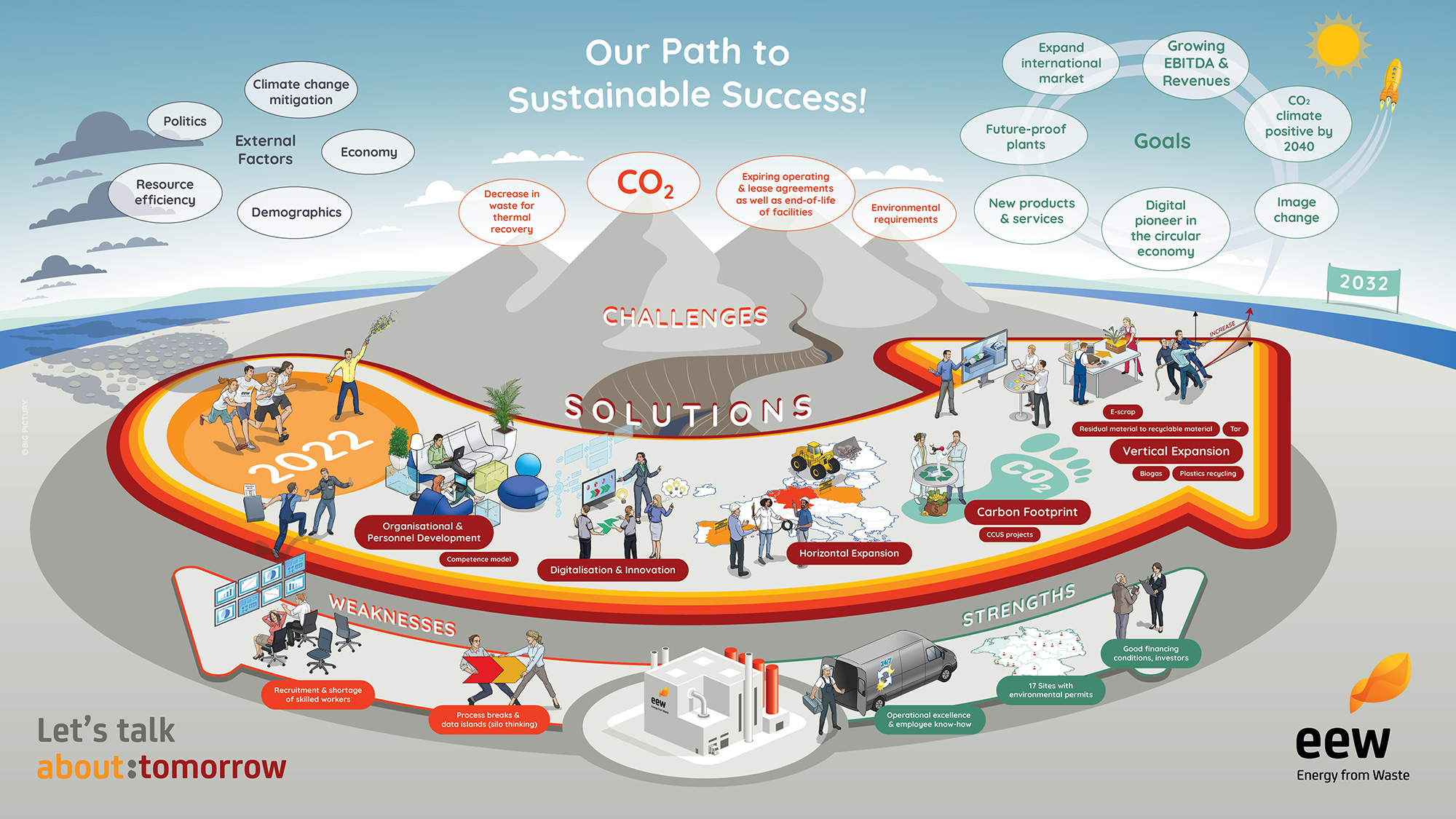 Customer
EEW recently celebrated its 150th anniversary: EEW, which originated from the Braunschweigerische Kohlen-Bergwerke AG (BKB), dates back to 1873. Today, EEW employs more than 1,250 people and is one of Europe's leading companies in the field of thermal waste recycling with locations in Germany, Luxembourg and the Netherlands.
Mission
In the course of its history, EEW has developed more and more from coal mining, to energy generation from waste, to a sustainable company in the circular economy. In the future, the even better and more efficient utilization of waste streams in terms of climate, environmental and resource protection is a focus of the EEW Group: In recent years, EEW has invested around 2 billion euros in projects for the future. In order to bring the corporate strategy closer to its employees in a simple and understandable way, EEW wanted a Big Picture so that all employees could identify with it.
QUICK-FACTS

CLIENT: EEW Energy from Waste GmbH
SCOPE OF SERVICES: Development of a Big Picture for digital and print, adaptation for trade fair stand and employee newspaper.
PROJECT TIMEFRAME: 1 month
BUDGET: four figures
Implementation
In close cooperation with EEW, the strategists and creatives of Big Pictury created a unique Big Picture within one month, based on a strategy map template, which visually sums up EEW's corporate strategy. The Big Picture paints a clear and easy-to-understand picture of EEW's path to sustainable success: including external factors, goals, challenges, approaches to solutions, as well as weaknesses that the company will work on in the future to achieve its business goals faster. This Big Picture was used as a large trade fair display, as part of a management meeting at EEW. So far, the response from employees has been overwhelmingly positive:
"The Big Picture is a tangible, creative solution for presenting what is, after all, very complex content. The extension options make it possible to react to changes and to adapt and update the corporate strategy to the framework conditions."
Template as the basis for the Big Picture