For a long time, only software developers used so-called visual collaboration tools to coordinate their collaboration. However, the remote work push that started with the pandemic has led to these practical project management tools being used more and more in other professions as well, whether in brainstorming and design processes, in strategy and business process planning, in product development or even in creating marketing plans.
Online whiteboards in particular are becoming increasingly popular. This is because digital pinboards offer numerous collaboration functions for interactive teamwork. Regardless of time and place, all users can expand, question or edit the online whiteboard with their ideas and graphics. This is a real digital boost for creative teamwork.
We took a look at the hottest online whiteboard providers on the market to find out what they have to offer. And of course, we've picked our favorites. By the way, all online whiteboards in our test can be tested free of charge. We hope you have fun checking them out!
As you can see, there are currently many different online whiteboards on the market. Which one is right for your company ultimately depends on what you want to do with it. We have chosen our four favorites and are happy to tell you why: Our main priority is that they can easily integrate complex images like Big Pictures, which we believe can significantly improve their level of engagement.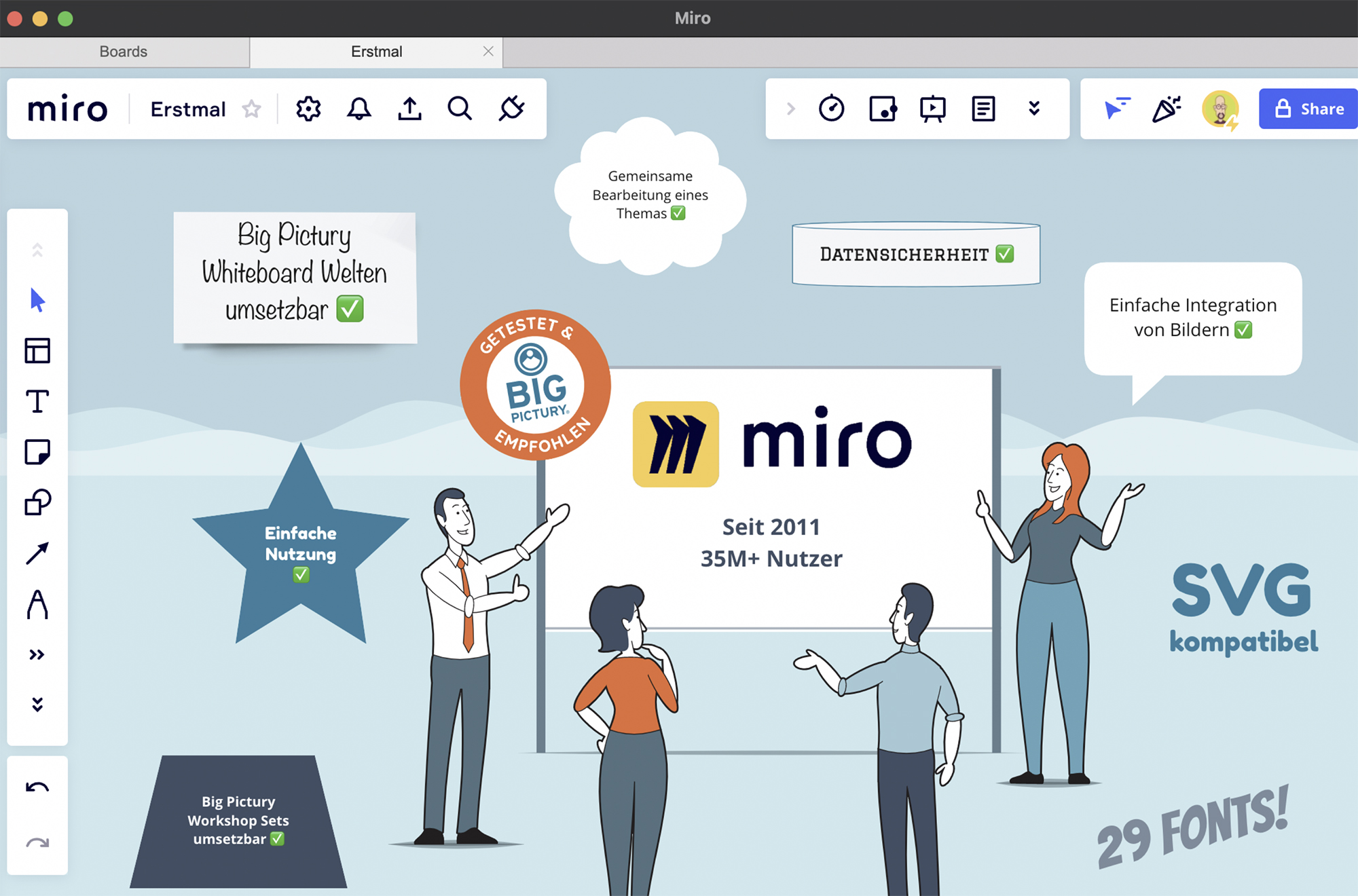 Favorite 1: Miro
It's not without reason that Miro is currently one of the best known and most used online whiteboards on the market. And for good reason: Miro is a fully comprehensive, "infinite" whiteboard tool, visually very appealing and intuitive to use. Teams can work with each other in real time with Miro. Meetings and brainstorming sessions work as if participants were sitting in the same room. In addition, participants can also access Miro at different times and continue to work on the online whiteboards. Numerous templates for mind maps, Kanban boards, customer journey maps, and many more, facilitate collaboration. In addition, you can also insert complete screenshots of websites into your online whiteboards. This makes Miro ideal for showing agile workflows and visualizing strategies. Another reason why Miro is one of our favorites: Miro already offers up to 3 boards and a large number of templates in the free package. In addition, Miro is DSGVO-compliant.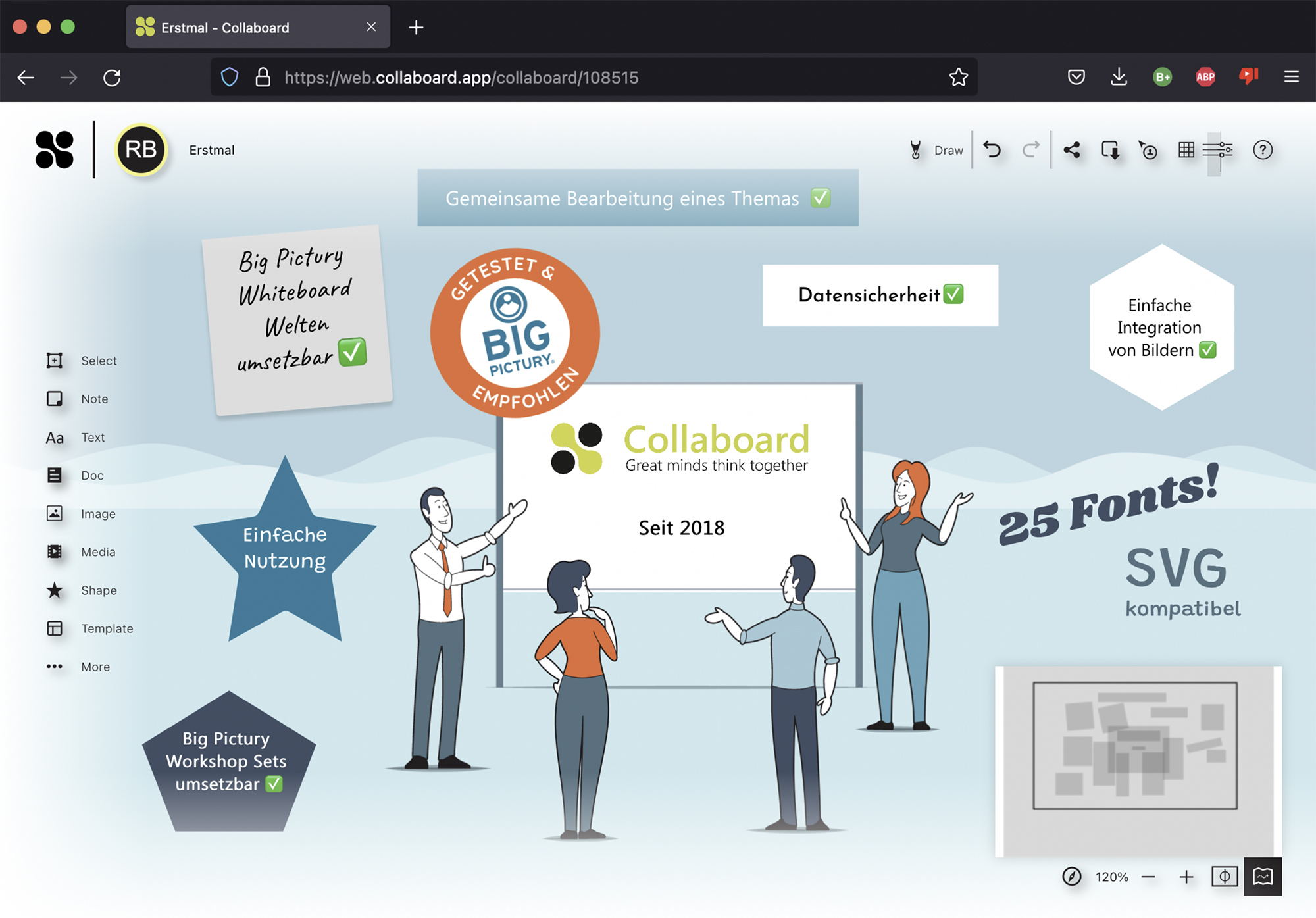 Favorite 2: Collaboard
Collaboard was developed by the Swiss company IBV and is also DSGVO-compliant. Whether in creativity techniques such as brainstorming, in project meetings or even visualizations of problems: Collaboard is a versatile online whiteboard. What we liked about Collaboard is that the online whiteboard already has an impressive amount to offer in the free version. For example, you can immediately start drawing and writing on your boards with the digital pen, as well as attaching digital notes and inserting images and shapes. And with the "Connectors" you can connect these shapes to mind maps and flow charts. Also already included in the free version are functions such as uploading documents, taking photos, recording videos and voting. In addition, you can already create up to three projects in the free version and work on them with up to five participants. From the "Basic" level, up to 20 participants have access to your online whiteboards, and from the "Advanced" plan, as many as you want. If you opt for the Enterprise version, you can also host your data on your own servers.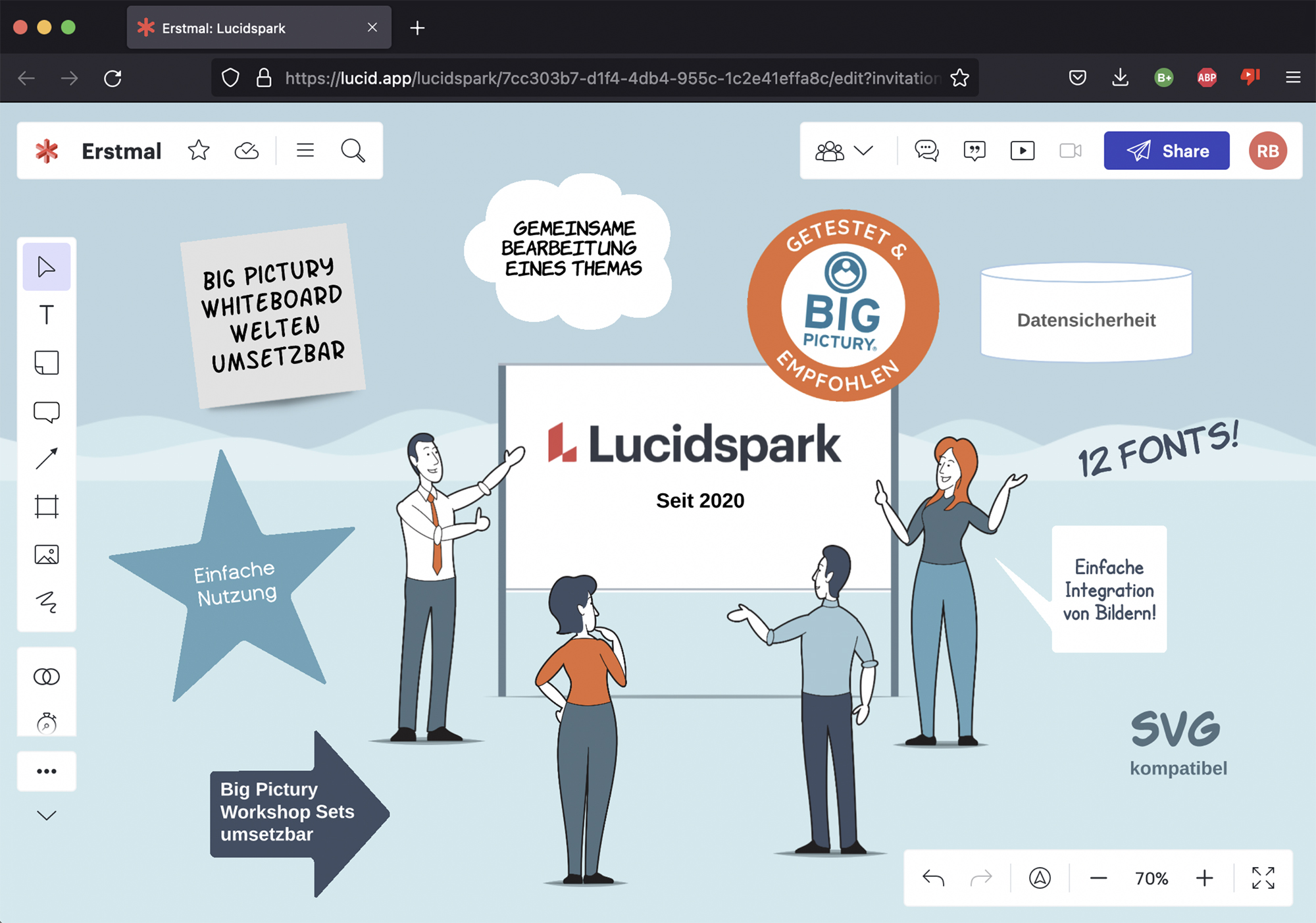 Favorite 3: Lucidspark
Lucidspark is another online whiteboard designed for teamwork and collaboration, and we were particularly impressed by its ease of use and the many practical templates and tools for a quick start when editing. With Lucidspark you can add texts as well as digital notes, shapes and lines to your online whiteboards. Even the basic version provides you with three boards that can be edited. You can load and edit up to 300 objects on each board. I particularly liked the "dot voting" feature, which allows participants to digitally vote on various content on the whiteboards using digital "sticky dots." The online whiteboards even have an integrated timer for the voting rounds. Also appealing to us are the emojis that participants can use to provide feedback on each other's notes. You can also share your boards via using the "Anonymous Guest" feature. This allows participants without a Lucidspark account to join sessions on your whiteboards.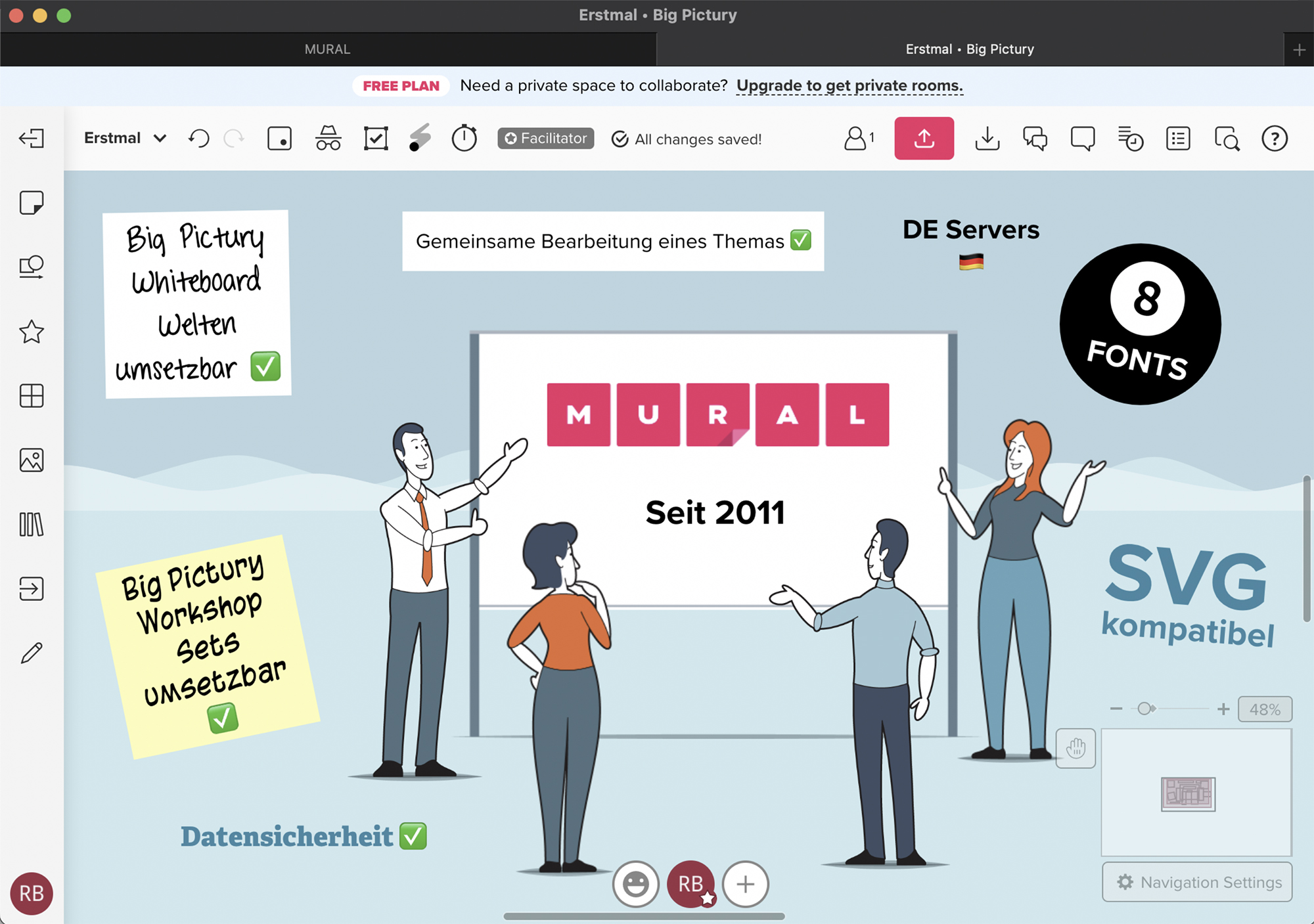 Favorite 4: Mural
The US cloud service Mural is a powerful alternative to our other favorites. That's because Mural offers all the key features of an outstanding online whiteboard. Mural is a flipchart, pinboard, collection folder as well as voting tool all in one. The user-friendly interface is the basis for the canvases, the so-called "Murals". On these canvases, all participants can interact in real time. For example, contributions can be provided with images or gifs, processes can be visualized with diagrams, or notes can be provided with feedback. We liked Mural's "template library," which is just as practical for brainstorming sessions, strategy meetings and product development as it is for introducing agile methods. Mural also works independently of video conferencing software: participants simply call up Mural in parallel in the browser. The manufacturer offers integrable apps for Zoom and Teams. You can create up to 5 pinboards in Mural free of charge – the number of participants is not limited. The only drawback of Mural is that the online whiteboard is probably not suitable for many public institutions, since the privacy policy is not DSVGO-compliant.
You can download the table as PDF HERE.
Whiteboard
Suitable for
presentations
Suitable for
common editing
Suitable
for many
simultaneous
users
e.g. online
meetings
Possibilities for
corporate design
implementation
(colors +
fonts)
Intuitive
handling
Easy onboarding
through
help videos
and resources
Use of
Big Pictury
Whiteboard
Worlds
Nutzung von Big Pictury Workshop Sets
Easy integration
of images
Data security/
server location
(if info is
available),
e.g. Germany
Features
Short info
Headquarters /
Location
Established
Number of users
Integration
of other
programs
App available
Miro
*****
*****
*****
29 Fonts, no
custom
*****
*****
*****
*****
*****
US, EU (Ireland)
Miroverse: more than 300 free
templates for editing various tasks

Extensive community and
support resources, many templates.
Intuitive workflow for easy cropping,
scaling, aligning, replacing and linking of
all elements on the board.
Relatively large selection of fonts.
Great presentation capabilities.
Desktop app available.
Amsterdam / San Francisco
2011
35 million +
Android, IOS, MacOS, Windows
Collaboard
****
*****
****
25 Fonts, no
custom
****
*****
*****
*****
SVGs *****
PNG *****
DE Servers, AWS, Azure
Content can be moved forward and
backward in single steps (not only
foreground/background), advanced
drawing tool, elegant minimal
interface
Clean and minimalistic
user interface.
Lots of templates available.
Relatively large selection of fonts.
Server in DE optional.
Switzerland
iPad, Android, Windows
Lucidspark
***
*****
*****
12 Fonts, no
custom
****
****
*****
PNG's available,
should work fine
SVGs *****
PNG *****
AWS
Content can be moved forward and
backward in single steps (not only
foreground/background)
Good support.
Intuitive workflow for easy cropping, scaling, aligning and replacing all elements on the panel.
Lots of templates available.
South Jordan, USA, Amsterdam, Melbourne
2020 (Lucidchart seit 2010)
Android, iPhone, iPad
Mural
****
*****
****
8 Fonts
no custom
***
****
*****
PNG's available,
should work fine
SVGs *****
PNGs *****
DE – Frankfurt
(with Berlin backup)
available
Responsive support team.
Large selection of templates.
Good presentation possibilities.
Server in DE optional.
Desktop app available.
San Francisco
2011
Android, IOS, MacOS, Windows
Conceptboard
****
*****
****
10 Fonts, no
custom
****
*****
Problems with SVGs
PNG's available,
should work fine
SVGs *
PNGs *****
All in DE
No SVGs
Secure server in DE.
Many templates available.
Very good presentation possibilities.
Stuttgart, Halle (Saale)
2010
2 million +
Yes
Klaxoon
****
*****
****
26 Fonts, no
custom
***
****
*
****
PNG *****
SVG** (is supported
but without
transparency)
EU, US Servers
Limited SVG-handling
Processes SVGs, but places them
in a frame.
Relatively good font selection (26).
Good presentation capabilities.
In France (Rennes, Lyon, Paris), the United States (Boston, New York), and Asia (Singapore)
2015
"millions of teams"
Android, iPhone & iPad
Microsoft Whiteboard
-*
****
**
2 Fonts – handwriting,
or Arial
bold for Stickies
**
***
No SVGs
PNG's available,
should work fine
SVGs *
PNGs *****
No SVGs
We have found that these four applications
do not allow to process
transparent images (png or svg) and
are therefore not very suitable for Big
Pictury Whiteboard Worlds or Workshop
Sets.
They are also limited in their font selection.
Windows, IOS Android
Limnu
*
****
****
6 Fonts, no
custom
****
****
*
No SVGs,
No order with
transparent
PNGs (send to
back / front)
*
**
** Realistic feel of whiteboard San Mateo, CA IOS
San Mateo, CA
IOS
Invision
****
****
****
1 Font
***
****
*
Error with transparent
PNGs /
No SVGs
*
*
AWS
No SVGs
7 million +
IOS iPad
Stormboard
*
****
*****
1 Font
****
*****
*
No seamless
image placement
*
*
No SVGs
PNGs are placed
in a frame
AWS
Not suited for seamless layouts
Edmonton, AB, Canada
2009
1 million +
IOS iPad-

Click here to find out more about our Big Pictury Whiteboard Worlds and contact us to get an offer for your topic.